Law Students
The National LGBTQ+ Bar Association boasts the largest group of lesbian, gay, bisexual and transgender law students in the country. As such, the LGBTQ+ Bar is a tremendous resource for law students. The LGBTQ+ Bar, along with its law student division, the Law Student Congress, seeks to connect LGBTQ+ students and student organizations around the country. The LGBTQ+ Bar offers an online community platform that allows law students to interact not only with other law students from across the country, but also lawyers, judges and other legal professionals, activists, and affiliated lesbian, gay, bisexual, and transgender legal organizations. Law student members of the bar also get special discounts, including reduced rates for the annual Lavender Law® Conference.
Each year, the Lavender Law® Career Fair draws over 500 law students from around the country. The event allows students to interview and connect with top law firms and corporate legal departments as well as government and non-profit agencies. Additionally, law student attendees are invited to participate in three award competitions designed to recognize the next generation of LGBTQ+ legal professionals. Awards geared specifically toward law students are the:
Law student members of the LGBTQ+ Bar also have the chance to prove their leadership skills by becoming a member of the Law Student Congress board. If you are interested in getting involved with the Law Student Congress, please email the board chairs at lsc@lgbtqbar.org.
Opportunity for Student Activism:
The "Gay Blood Ban"
The National LGBTQ+ Bar Association's Law Student Congress is currently working on a coordinated campaign to end the "Gay Blood Ban."  Law student members of the LGBTQ+ Bar are working with LGBTQ+ organizations on law school campuses to raise awareness against the Food and Drug Administration's (FDA) current policy which prohibits blood donations from "men who have had sex with men" or "individuals who have had sex with a man who has sex with men in the last twelve months." By facilitating advocacy, the LGBTQ+ Bar and the Law Student Congress hope to bring about a change in the FDA's policy and persuade it to adopt a risk-based analysis determined by donor behavior instead of sexual orientation.
For information about other actions, please contact Judi O'Kelley at judi@lgbtqbar.org. Our law school affiliate groups receive regular information for suggested activism campaigns. We encourage your school to join as an affiliate today!
Here's an example of LGBTQ+ Bar law student members' activism on the FDA's "Gay Blood Ban":
On April 5, 2018, then-law students Taylor Horn, David Nahmias, and Tyler Wolfe tabled to raise awareness of the Food and Drug Administration's (FDA) discriminatory 'Gay Blood Ban' at Berkeley Law's first annual blood drive.
The law students at Berkeley wrote a letter and circulated it to all the faculty, staff, and students at Berkeley Law before the blood drive started. During the drive, they peacefully protested the FDA's discriminatory policy for six hours by handing out flyers and copies of the LGBTQ+ Bar's student toolkit as well as asking donors to sign a petition for the FDA to move away from the "Gay Blood Ban" and to a risk-based assessment of donors. The petition was signed by 87 participants and their presence was welcomed at the drive. Tyler Wolfe, one of the protestors and co-chair of the LGBTQ+ Bar's Law Student Congress, notes "the American Red Cross was extremely accommodating. They even allowed us to peacefully protest the 'Gay Blood Ban' from within the blood drive. We had our table set up directly next to the blood drive's sign-in table. This visibility helped boost our message, and we are very grateful that the blood drive volunteers were so willing to work with us."
Their protest was part of a larger campaign launched by the LGBTQ+ Bar that advocates for the FDA to adopt a risk-based analysis determined by the behavior of a donor rather than by their sexual orientation. Currently, men who have sex with men (MSM) are banned from donating blood purely due to their sexual orientation rather than a pattern of behavior that more accurately indicates their level of risk for HIV. The Berkeley Law students' protest aimed to raise awareness of the fact that blood collection agencies could be far more effective at ensuring blood samples are HIV-free, and far less discriminatory, by implementing an individual risk assessment. Under this system, blood collection agencies would defer individuals based on risky behavior rather than sexual orientation. A MSM who does not have unprotected sex and is completely monogamous is much less at risk for HIV than a heterosexual person who has unprotected sex with multiple partners.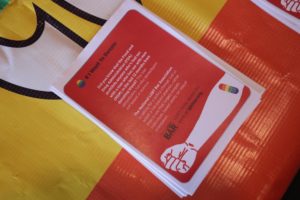 Read the letter Taylor, David, and Tyler circulated around campus or click here to download the pdf. (Note: The Berkeley Drive was conducted in 2018 when the FDA's ban covered a 12-month period. In 2020, the FDA modified the ban to a 3-month period. While less stringent, this time restriction is nevertheless not grounded in science and continues the discrimination and stigma against the members of the LGBTQ+ community, including gay men, bisexual men, and transgender people.)
Dear members of the Berkeley Law community,
As you know, today is the first annual Blood Drive on campus. Available blood for medical emergencies is often in short supply, and donating blood is an important and easy way healthy people can contribute to their communities and maybe even save a life. We encourage you to donate blood today.
However, we feel compelled to bring light the fact that donating blood is not an option for many gay and bisexual men, including trans men, here in the United States. Current FDA regulations prohibit any male who, within the past twelve months, has had a sexual encounter with another man, from donating blood. It does not matter whether the individual engages in low-risk sexual behaviors, or even if the person is in a monogamous relationship. He is categorically excluded from donating. This policy stands as a legacy of the early days of the HIV/AIDS epidemic when blood banks lacked the tools to screen out HIV-positive blood. Scientific advancements have rendered this concern obsolete, yet the Gay Blood Ban still exists, carrying with it negative stigma and discriminatory animus against the LGBTQ community.
The Gay Blood Ban's consequences are significant. For example, after the Pulse nightclub massacre in Orlando, Florida, in which 49 primarily gay and trans persons of color were brutally murdered and many more injured in one of the largest mass shootings in American history, blood centers turned away the dozens of gay and bisexual men who came out in force to help save their injured LGBTQ family. The FDA's discriminatory policy reinforced harmful stereotypes during one of the most painful moments for LGBTQ people today, and it prevented willing and able donors from contributing.
The National LGBT Bar Association's "End the Gay Blood Ban Campaign" is advocating for the FDA to replace its current policy with an individualized risk-based assessment, which is currently used in Italy and Argentina. The ability to donate blood would depend on one's sexual behaviors, not one's sexual orientation. In February 2017, the American Bar Association issued a resolution calling on the FDA to implement this new, nondiscriminatory risk-assessment.
Today we will be tabling near the blood drive to provide more information about this campaign. We invite you to sign a petition, which will be located at our table outside the blood drive, demanding the FDA to abandon the Gay Blood Ban once and for all​.
Many of us who are gay want to donate blood, which is critical for saving the lives of people in urgent medical need. The cruel irony is that once in our lives we could, but now that we are out, we are subject to the FDA's discrimination.
For those that can, please donate blood today. And please join us and sign our petition to end the Gay Blood Ban so that all of us can donate.
Sincerely,
Taylor Horn '19
David Nahmias '18
Tyler Wolfe '19
Alexey Berlind, Human Rights Center
Savala Trepczynski, Thelton E. Henderson Center for Social Justice