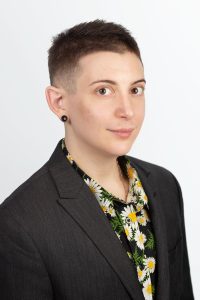 Andy (they/he) is a founding member of PLAC, Senior Legal Director of Chosen Family Law Center, and senior associate attorney at Diana Adams Law & Mediation. They are a passionate advocate and educator around alternative family law and family creation, gender and sexuality, and restorative and transformative justice. This advocacy extends both to education work as well as to direct services work as an attorney, mediator, consultant, and practitioner of restorative and transformative justice.
Andy is a dedicated member of the LGBTQI Family Professionals of New York, working with New York families to resolve conflict without state intervention, the NYC chapter of the National Lawyers Guild, serving as Vice President, Executive Committee member, and protest support, the selective Family Law Institute of the National LGBT Bar Association, and the Family and Matrimonial Law Committee of the LGBT Bar Association of Greater NewYork.
Andy speaks and educates nationwide on these topics, and their writing has been published in multiple publications.