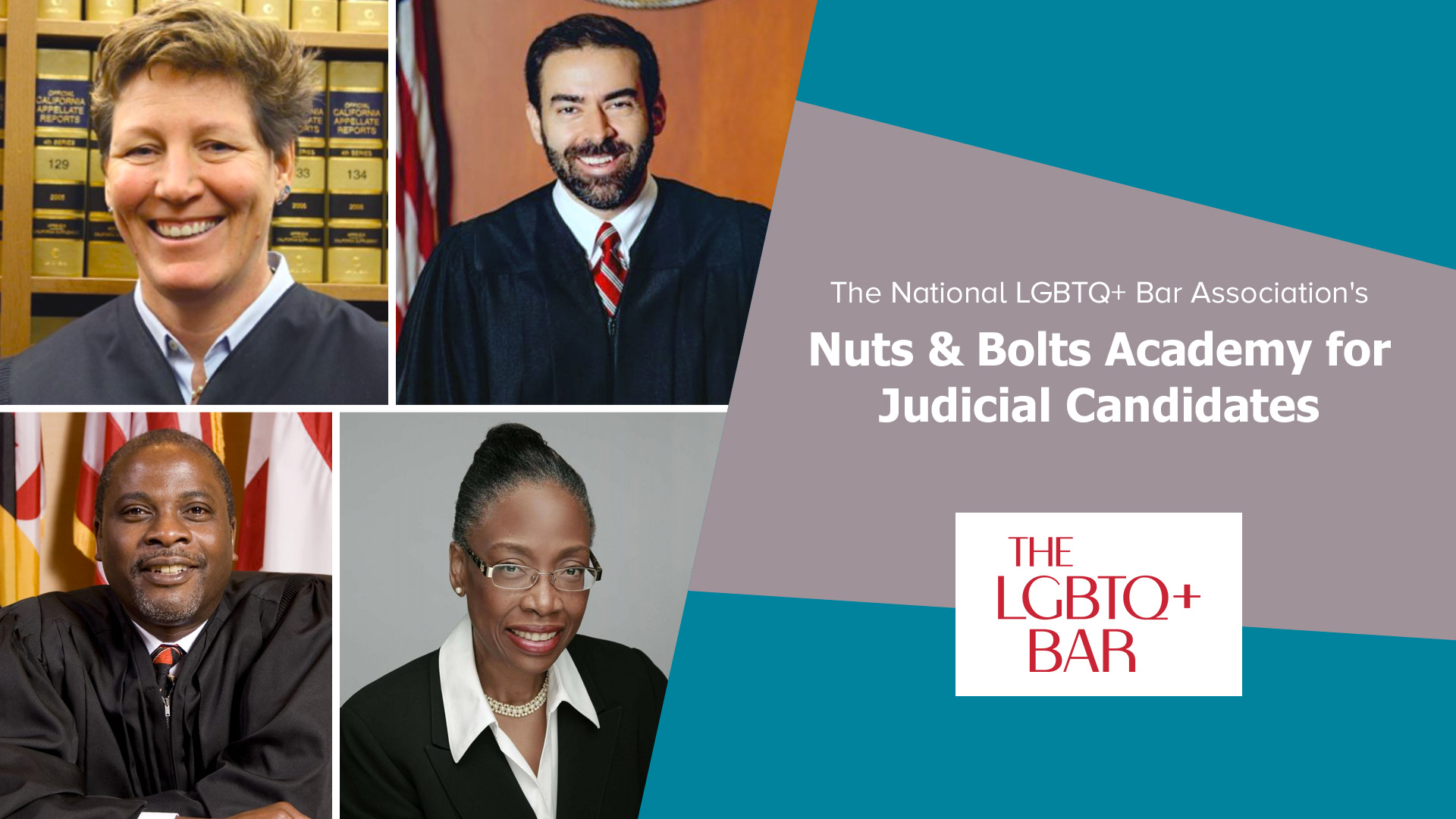 The National LGBTQ+ Bar Association's
Nuts & Bolts Academy for Judicial Candidates
The LGBTQ+ Bar's "Nuts & Bolts Academy for Judicial Candidates" seeks to provide interested legal professionals with the tools they need to end up on the other side of the bench. This intensive workshop welcomes legal professionals from all backgrounds and parts of the country, and particularly encourages attorneys of color, transgender attorneys, and women attorneys to participate. The LGBTQ+ Bar believes diverse perspectives bring diverse experiences to the bench – and diverse experiences lead to better judgments.
Our Judicial Nuts & Bolts Academy offers serious candidates planning to seek a judicial position in the next three years – either through appointment or election – with a foundation in those processes, as well as small-group mentoring from current LGBTQ+ judges with experiences in elections as well as nomination and appointment procedures.
Attendees will have significant small-group time with current judges for conversation about the pathway to the specific jurisdictions identified as being of interest, as well as networking time with other prospective candidates. Our faculty will include groundbreaking LGBTQ+ federal judges as well as esteemed LGBTQ+ state and municipal judges, and will dedicate significant discussion time specifically to the federal nominations process.
The 2022 Judicial Nuts & Bolts Academy will be held in conjunction with the 2022 Lavender Law® Conference & Career Fair on Thursday, July 28 from 2:00 – 5:15pm Pacific Time. Only registered Conference attendees are eligible to attend the Academy.
The deadline for applications is July 20, 2022.
2022 Judicial Nuts & Bolts Academy Panel
Judge Linda H. Colfax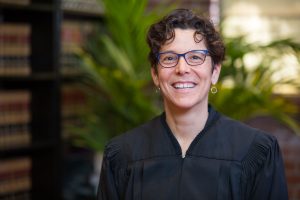 Judge Linda H. Colfax, a San Francisco Superior Court Judge since 2011, currently sits in the criminal division of the court, and presides over the mandatory felony settlement conferences.  Judge Colfax has also served as a supervising judge of preliminary hearings, a juvenile court judge in both dependency and youth justice, a family court judge, and has presided over both civil and criminal trials. She also sat on her court's Appellate Division for 3 years and served on the Executive Committee for 4 years.  Judge Colfax, a former Vice President of the California Judges Association (CJA), currently co-chairs CJA's LGBT Judicial Officers of California Section CJA and the Committee on the Elimination of Bias and Inequality.  Judge Colfax, a former Vice president of the International Association of LGBTQ Judges, currently sits on its board.  Prior to her election to the bench in 2010, Judge Colfax worked as a San Francisco deputy public defender.   She was privileged to win her seat during a primary election against 3 other candidates.
Judge Colfax, a native of the Midwest, earned her A.B. from Harvard and her J.D. from the University of Michigan Law School.  Judge Colfax and her wife, Kristin, who met playing ultimate frisbee in 1995, have been married since 1999*, 2004 and 2008. They have 2 children, 2 dogs and spend their free time outdoors biking, hiking, jogging, climbing, SUPing, Pickleballing, gardening, or just ambling with the dogs.
Judge Darrin Gayles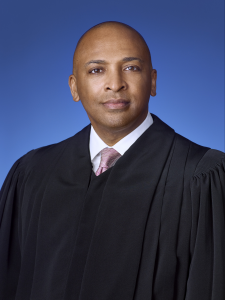 Judge Darrin Gayles is a United States District Judge for the Southern District of Florida.  Following his 2014 nomination to the District Court by President Obama, the United States Senate unanimously confirmed Judge Gayles' nomination by a 98-0 vote – making Judge Gayles this nation's first openly gay, African-American man to serve on the federal bench.  Judge Gayles previously served for more than ten years as a judge of Florida's 11th Judicial Circuit.  A graduate of Howard University and the George Washington University Law School, Judge Gayles has been a leader and active participant in South Florida's legal and civic communities.  He has been the recipient of numerous awards, including the National Bar Association's 2019 Judicial Service Award, the Dade County Bar Association's President's Award, and the Lawyers in Leadership Award from the University of Miami's Center for Ethics & Public Service.
Judge Mike Jacobs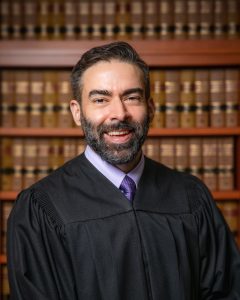 Judge Mike Jacobs has served since June 2015 on the State Court of DeKalb County, Georgia. He is the first openly bisexual person to serve as a trial or appellate judge in the United States. Prior to his judicial service, Judge Jacobs served ten and a half years in the Georgia House of Representatives. His legislative service included five years as chairman of the Metropolitan Atlanta Rapid Transit Oversight Committee (MARTOC), the joint House and Senate committee that oversees the management, budget, and fiscal affairs of Metro Atlanta's transit system. In 2010, he received the Allen Thornell Political Advancement Award from Georgia Equality for passing a stronger anti-bullying law for public schools. Judge Jacobs received his law degree in 2003, magna cum laude, from the University of Georgia School of Law, where he was the executive articles editor of the Georgia Law Review. He received his bachelor's degree in 1997 from Georgetown University. Judge Jacobs serves on the boards of the International Association of LGBTQ+ Judges, Stonewall Bar Association of Georgia, and Leadership DeKalb. He also serves on the Judicial Council of Georgia's Committee on Access to Justice. Judge Jacobs was recognized by the Stonewall Bar Association of Georgia in 2019 with its award for Outstanding Service to the Stonewall Community and by the International Association of LGBTQ+ Judges in 2020 with one of its President's Awards. He and his wife Evan are the proud parents of three children, Jonah, Eli, and Samantha.
Judge Jill Rose Quinn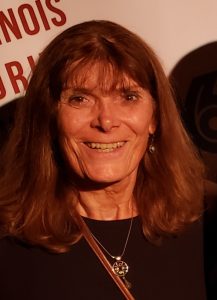 Jill Rose Quinn has an extensive legal background in the private sector. She has a lifelong dedication to community service. After graduating from The John Marshall Law School in 1983, she worked for small law firms including one in which she represented local government units. Throughout her career, she handled over 4,000 cases and performed appellate work. Jill started her own practice in 1997 and focused on helping neighborhood residents with financial challenges, family law matters, small business operations, probate and criminal law. Throughout her life Jill has believed in giving back to others. Before moving to Chicago, she was a community organizer in economically disadvantaged areas in Houston and Des Moines and helped form neighborhood action groups dedicated solving problems such as lack of zoning and dangerous traffic, as well as addressing utility and taxation issues. Her compassion for others and sense of fairness is what helped inspire Jill to practice law. As a child, she realized that many people were not treated equally under the law because of their race, religion or nationality. Jill decided then that she wanted to be a lawyer to fight for all people's rights and equality. Being transgender has taught Jill firsthand what it is like to be marginalized and the vital importance of treating all people with fairness, decency and compassion. In November of 2020, Jill was elected to the office of Cook County Circuit Court Judge. She is the first openly transgender circuit court judge in the State of Illinois and the first openly transgender elected official in the State of Illinois. She is currently serving in the Traffic Division, Municipal Department. Her perspective as a member of the transgender community and as a sole practitioner brings a unique dimension to the Cook County Bench.