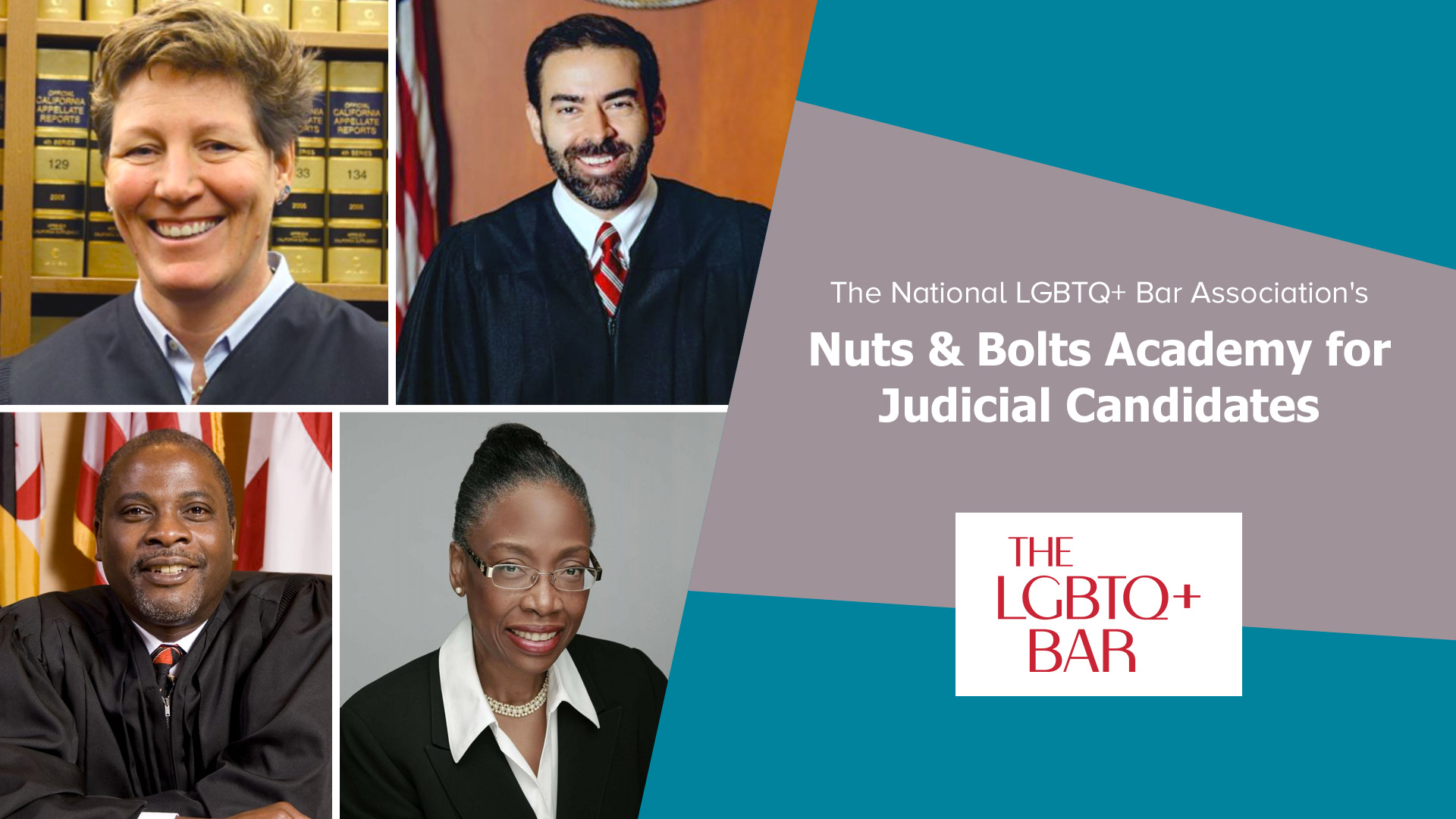 The National LGBTQ+ Bar Association's
Nuts & Bolts Academy for Judicial Candidates
The LGBTQ+ Bar's "Nuts & Bolts Academy for Judicial Candidates" seeks to provide interested legal professionals with the tools they need to end up on the other side of the bench. This intensive workshop welcomes legal professionals from all backgrounds and parts of the country, and particularly encourages attorneys of color, transgender attorneys, and women attorneys to participate. The LGBTQ+ Bar believes diverse perspectives bring diverse experiences to the bench – and diverse experiences lead to better judgments.
Our Judicial Nuts & Bolts Academy offers serious candidates planning to seek a judicial position in the next three years – either through appointment or election – with a foundation in those processes, as well as small-group mentoring from current LGBTQ+ judges with experiences in elections as well as nomination and appointment procedures.
Attendees will have significant small-group time with current judges for conversation about the pathway to the specific jurisdictions identified as being of interest, as well as networking time with other prospective candidates. Our faculty will include groundbreaking LGBTQ+ federal judges as well as esteemed LGBTQ+ state and municipal judges, and will dedicate significant discussion time specifically to the federal nominations process.
The 2023 Judicial Nuts & Bolts Academy will be held in conjunction with the 2023 Lavender Law® Conference & Career Fair in Chicago. Only registered Conference attendees are eligible to attend the Academy.
Our 2023 Judicial Nuts & Bolts Academy application is now open! Please apply by July 14, 2023.