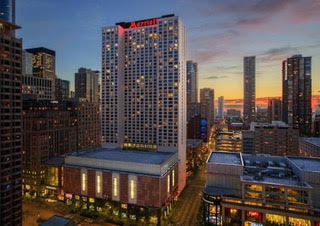 Certainly any hotel claiming a Magnificent Mile address should live up to its name. And after a $120 million total renovation, the Chicago Marriott Downtown Magnificent Mile achieves exactly that. Drawing from the context of the city itself, hustle and bustle balanced by the calming effects of natural elements, this newly transformed hotel offers a stunningly stylish, energetic, and contemporary vibe.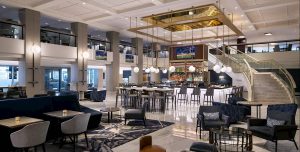 Here, business and entertainment intersect in a multidimensional setting that inspires guests to engage, relax, retreat, work and play. It begins the moment they enter the hotel where they are introduced to a spectacular, newly transformed lobby that reinvents the way guests socialize, work and relax, complete with our brand new bar, Reviver, A Cocktail Bar. A short distance away, quiet zones are a haven of relaxation, while other areas throughout the lobby offer inviting settings for social business. The traditional front desk has been abandoned in favor of friendlier and more approachable welcome pods. There's a full-service Starbucks for the latte crowd, and a staircase that leads to the hotel's signature restaurant on the second floor. Always a premier destination for Chicago-based meetings, the Chicago Marriott Downtown Magnificent Mile has masterfully redefined all of its meeting space to accommodate 21st century meeting needs.
The National LGBTQ+ Bar's 2023 Lavender Law® Conference and Career Fair will be held at:
Please use this link to book the negotiated and exclusive rate for the 2023 Lavender Law® Conference.
Room per night $279+ fees and taxes.
Please book early as we anticipate the hotel selling out as it did in 2022!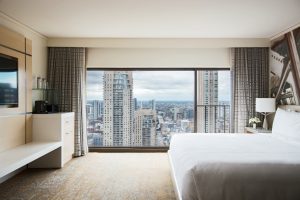 When booking our exclusive hotel room block, your booking information including personally identifiable information might be shared with the planning team to ensure logistics are executed properly for all of our attendees and stakeholders. At no time will the National LGBTQ+ Bar share data with marketing firms.
We have received information that several travel housing companies are claiming to have a relationship with the National LGBTQ+ Bar Association and Foundation, its event, and/or the Chicago Marriott Downtown Magnificent Mile. These companies and others like it are NOT in any way affiliated with us. There is only one official, exclusive housing block for this event that can be accessed directly from this webpage (see above). Any other channels of booking reservations are not authorized.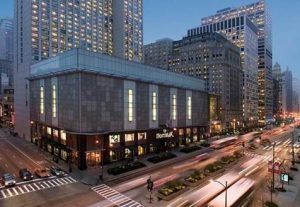 Air
The hotel is accessible from all major Chicago metropolitan area airports including O'Hare International Airport (ORD) and Chicago Midway International Airport (MDW).
Public Transit
Please click here to view nearby bus and subway routes.
Driving
For driving directions to the hotel, please click here to access Google Maps.
Parking at Chicago Marriott Downtown Magnificent Mile
More information coming soon.