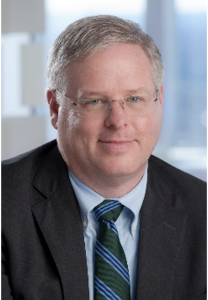 Edward Baer is counsel in Ropes & Gray's asset management group in San Francisco. His practice focuses on advising exchange-traded funds (ETFs) and other investment companies, as well as their sponsors and their independent directors/trustees. He has deep experience in operational, governance, compliance, regulatory, capital markets and business issues related to ETFs and other investment companies and asset managers. He also has experience advising clients on investments in cryptocurrencies, including bitcoin, ether and other coins and tokens, initial coin offerings (ICOs) and simple agreements for future tokens (SAFTs), cryptocurrency fund formation and related trading, custody and valuation issues.
Prior to joining Ropes & Gray in 2016, Ed was managing director and senior counsel for the world's largest asset manager, and also served as Chief Legal Officer for the world's largest ETF complex. In that role, he oversaw the full range of legal and compliance matters for over 300 ETFs, including index and active 1940 Act ETFs and non-1940 Act physical metals and futures-based commodities ETFs, with assets under management of approximately $800 billion at the time. Ed and his team were responsible for all legal aspects of the operation of the ETF complex, including:
registration of ETFs under the 1933 Act and 1940 Act;
fund governance and board matters;
new ETF product development, including novel products such as a 1940 Act-registered commodity index ETF, a frontier markets ETF, currency and interest rate hedged ETFs and "smart beta" ETFs;
ETF exemptive relief and exchange listing and trading relief;
ETF capital markets, trading and creation and redemption activities; and
ETF distribution, marketing and index licensing.
Ed also advised on acquisitions and other strategic business matters, global valuation issues, and regulatory affairs, as well as on numerous other legal and compliance matters.
Prior to his in-house role, he held positions at two large law firms where he focused his practice on counseling clients on issues arising under the 1940 Act and advising mutual funds on organization, registration, operations, governance and regulatory matters.