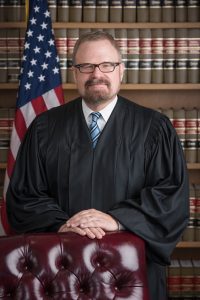 Michael W. Fitzgerald is a United States District Judge for the Central District of
California. He was appointed in 2012. He was the second openly gay man to be appointed an
Article III judge, and was the first LGBTQ+ Article III judge outside of Manhattan. Before his
appointment, Judge Fitzgerald practiced at Corbin, Fitzgerald & Athey LLP and its predecessor
firms, focusing his practice on federal criminal cases and commercial litigation. While in private
practice, he served as pro bono trial counsel for the class of gay and lesbian FBI agents,
employees and applicants in Buttino v. Federal Bureau of Investigation, et al.; the case resulted
in the FBI's abandoning its practice of not hiring openly gay and lesbian agents. Judge
Fitzgerald served as an Assistant United States Attorney in Los Angeles from 1988 to 1991. He
is a lifetime member of the LGBTQ+ Bar Association of Los Angeles.
Judge Fitzgerald clerked for the Honorable Irving R. Kaufman of the United States Court
of Appeals for the Second Circuit from 1985 to 1986. In 1985, he graduated from the School of
Law of the University of California at Berkeley (Berkeley Law), where he was elected to the
Order of the Coif. He received his undergraduate degree magna cum laude from Harvard
University.