The National LGBTQ+ Bar Association celebrates LGBTQ+ and ally legal professionals and law students whose work has made a positive impact on the LGBTQ+ legal community.

Congratulations to all of our 2023 award recipients below!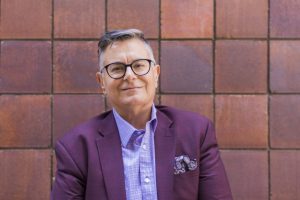 Tina Luongo (They/Them) is the Chief Attorney of the Criminal Defense Practice of The Legal Aid Society. With almost 30 years of commitment to nonprofits that advocate and litigate for social justice, Tina is engaged in work that has helped clients and communities in New York City and across the nation.
Tina's distinguished career as a public defender began at The Legal Aid Society as a staff attorney in the New York County trial office of the Criminal Defense Practice and, later, as Supervising Attorney of the same office. As Supervising Attorney, they continued to directly represent clients, as well as train and manage a team of attorneys, paralegals, and investigators. Tina served on the task force that, with Davis Polk LLP, laid the foundation for the groundbreaking legislation capping caseloads for public defenders in New York City. This legislation has been critically important in ensuring people accused of crimes receive the robust representation the U.S. Constitution requires and more importantly, they deserve. In May 2011, Tina became the Deputy Attorney-in-Charge of the Criminal Defense Practice, where they were responsible for the daily operation of the practice's over 1200 dedicated staff representing over 230,000 low-income New Yorkers. As Chief Attorney, Tina has presided over law reform, policy advocacy and affirmative litigation that have sought access to medical care for people held at Rikers Island; improved treatment of LGBTQIA+ people under the care of the NYC Department of Correction; and led efforts to strengthen transparency and accountability of NYPD officers for misconduct.
Prior to joining the The Legal Aid Society, Tina served in various roles, including as Vice President of Operations for a national gang intervention and prevention nonprofit organization, Council for Unity. At the Council for Unity, Tina led the development, finance, and human resource functions of the organization.
Throughout their career Tina has focused on improving the lives of those that have found themselves on the brink, or within, the criminal justice system. They are dedicated to increasing the diversity of the public defense workforce and are integrally involved in The Legal Aid Society's diversity, equity, and inclusion initiatives which partners management and staff to improve staff diversity and provide cultural competency training, both internally and to external stakeholders in the criminal justice system. They have been an active voice in the movement to foster best practices in public defense and continue to be involved in the dialogue about how public defenders can create systemic change, as well as be zealous advocates for their clients.
In August 2023 Tina will be sworn in as the first gender non-conforming Chair of the American Bar Association's Criminal Justice Section, after serving the section for many years in several key leadership roles. In that role, they will work with public and private criminal defense attorneys, State and Federal prosecutors, and esteemed members of the bench and academia to set the standards for racial equity and fairness in the criminal legal system and to strive to create opportunity and professional development for section members. Tina is a member of the Board of Directors of the National Legal Aid and Defender Association and Past President of the Chief Defender Association of New York.
Kyle Hildebrand (Co-Winner)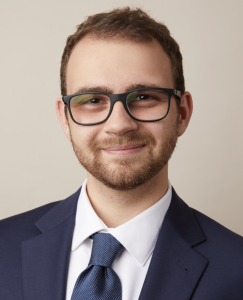 Kyle Hildebrand is from Brunswick, GA and just completed his 2L year at the Georgia State University College of Law in Atlanta, GA. He is the president of the LGBTQ+ Law Student Affinity Group, OUTLaw, at GSU. Outside of school, he enjoys spending time working with Lambda Legal and other organizations that seek to advance LGBTQ+ rights in the South. When he gets a moment away from the law, Kyle can be found performing with the Atlanta Gay Men's Chorus, playing kickball with his team, or watching the Real Housewives of Potomac.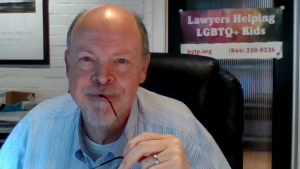 Keith Doniphan Elston has been a practicing attorney since 2006. He was born and raised in Lexington, Kentucky, is a graduate of University of Kentucky, with a degree in Political Science, and received his Juris Doctor from Drake University Law School in Des Moines, Iowa.
In the early 1990s, he was hired by the national office of the American Civil Liberties Union to establish an office in the Dakotas, and several years later, he was hired by the ACLU of New Mexico as their executive director. In 2000, he and his husband, Mark Schmidt, moved to Vermont so that he could lead a nonprofit advocacy group for LGBTQ+ children and youth, Outright Vermont. This was at a time when the Vermont legislature enacted civil unions, and because he led one of the most visible LGBT organizations in Vermont, the backlash from the religious right was severe. "I had people calling in death threats to my staff," Mr. Elston said, "and picketers outside our office building. It was a rather difficult time."
In 2002, he was accepted to law school at Drake University. He became involved in the Outlaws, a student-led group for LGBT law students, and the Drake chapter of the National Lawyers Guild. He also served on the law school's Diversity, Equity and Inclusion Committee for a year and a half. After graduating in 2005, he and Mark moved back to his home state of Kentucky, and he opened a solo family law and estate planning practice in Lexington.
In 2014, Mr. Elston attended a regional meeting of the LGBT Family Law Institute (a joint venture of the National LGBTQ+ Bar and the National Center for Lesbian Rights) in Atlanta, where he participated in a group discussion of the challenges for LGBTQ+ youth to have access to the legal system. Following the meeting, Mr. Elston decided to form a committee to explore how he could provide legal services for Kentucky's LGBTQ+ children and youth. From that committee came the Kentucky Youth Law Project, Inc., a nonprofit legal services corporation whose mission is to protect the legal rights and entitlements of LGBTQ+ children and youth through pro-bono legal representation, education, and public policy advocacy.
Mr. Elston is the past Chair (2020-2022) of the Kentucky Bar Association's LGBT Law Section, and the National LGBTQ+ Bar Association, an affiliate of the American Bar Association. He is also a member of the KBA's Committee on Child Protection and Domestic Violence, the National Bar Association – John Rowe Chapter, and the National Association of Counsel for Children.
He and Mark have been together for 26 years, married in 2015, and live with one of their three children, Nick, and their dog, Marley. Their son, Allen, lives in Louisville and their daughter, Kelly, lives in Bowling Green.
Wenxi Lu is devoted to promoting LGBTQ+ rights both domestically and internationally. Before law school, Wenxi interned at two LGBTQ+ non-profit organizations in China, where her work involved impact litigation and legislative advocacy. She also co-initiated the Gender and Sexuality Diversity Training for Law Firm Program. After her internships, Wenxi co-founded We Can See It, a non-profit organization that focused on combating gender-based violence. Her favorite project at We Can See It is developing a gender-based violence board game for junior high and high school students.
In law school, Wenxi serves as the 2L Director for the LGBTQ+ Project, a pro bono project that serves the LGBTQ+ community. Being Chinese, a lesbian, and an international student, Wenxi is passionate about increasing the visibility of people with multiple marginalized identities and promoting the understanding of intersectionality. In addition, with her international background, she is dedicated to connecting the American LGBTQ+ community with LGBTQ+ communities worldwide. She has invited LGBTQ+ rights activists worldwide to conduct panels for U.S. law students to facilitate mutual communication. Wenxi served as the advocacy intern for the National LGBTQ+ Bar Association in Spring 2023 and will serve as the Chair for the Law Student Congress in the 2023-2024 academic year.