2021 is the inaugural year of the LGBTQ+ Bar's Legal Services Justice Award. This award recognizes a Legal Services practitioner whose work on behalf of low-income, marginalized members of the LGBTQ+ and HIV+ communities has advanced the cause of justice and equity with excellence and compassion.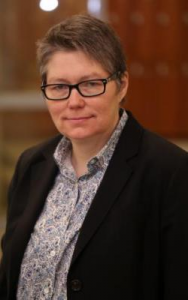 The National LGBTQ+ Bar is proud to honor Vickie Neilson with the 2021 Legal Services Justice Award. Vickie Neilson has spent her career advocating for and securing legal protections for immigrants, including LGBTQ and HIV+ immigrants. She is currently a Managing Attorney at The Catholic Legal Immigration Network (CLINIC) in their Defending Vulnerable Populations Program. She previously served as Legal Director at the Immigrant Justice Corps, from 2014 to 2018. Neilson has also worked in the Office of Chief Counsel of USCIS Refugee and Asylum Division, as the legal director of Immigration Equality, and as the legal director of the HIV Law Project. She is co-chair of the American Immigration Lawyers Association (AILA) National Asylum Committee and is the former chair of the New York City Bar Association's (NYCBA) Immigration Committee, and NYCBA's Special Committee on AIDS.
She is a contributing author to AILA's Representing Clients in Removal Proceedings, and the co-author of AILA's only LGBTQ-themed book, Immigration Law and the Transgender Client. Neilson has also taught as an adjunct professor at CUNY School of Law and New York University School of Law, where she helped establish the school's LGBT rights clinic. She is a graduate of CUNY School of Law and Harvard University and is a member of the New York state bar.
Please join the National LGBTQ+ Bar Association in thanking Vickie Neilson for all of her hard work on behalf of the LGBTQ+ community, and in congratulating her on being the 2021 Legal Services Justice Award Winner.
Winners:
2021 | Lavender Law - Virtual

Vickie Neilson – The Catholic Legal Immigration Network