The Student Leadership Award is the LGBTQ+ Bar's highest honor for law students. The award recognizes two law students who have demonstrated leadership within their school and in the surrounding community, especially in the area of LGBTQ+ equality. The 2023 co-winners will receive free Lavender Law® registration, travel assistance to Chicago, and a free hotel stay at our conference venue. 
To nominate someone for the Student Leadership Award, please send their resume and a 250-500 word statement of support indicating why the nominee deserves recognition to programs@lgbtqbar.org. You must include the following subject line on the email: 2023 Student Leadership Award: [Student Name]. Nominations may be submitted by anyone, including nominees themselves.
A maximum of two additional letters of support may be submitted with the nomination, but are not required. We strongly encourage nominators to adhere to the allotted number of letters (one is required, an additional two are optional). It is not an advantage to provide additional letters or extra documentation; if such extra materials are submitted, the Bar will randomly choose which letters to send to the Awards committee.
Nominations will close at midnight Eastern Time on April 1, 2023.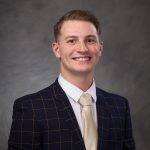 Dylan Bitar is a graduate of the Charleston School of Law and plans to practice in Florida. As a student he served as the president of the LGBTQ+ organization, the Student Bar Association, and the Chair of the SBA Diversity and Inclusion Committee. Through these positions, Dylan has learned to tailor his passion and skills as an advocate for the LGBTQ+ community and other underrepresented communities. He hopes to take his advocacy and experience further to work for non-profit advocacy groups for LGBTQ+ equality and other initiatives on diversity, equity, and inclusion.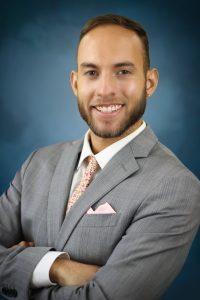 Edson Abadia Jr. was born and raised in Port Orange, Florida and is a recent graduate of Stetson University College of Law located in Gulfport, Florida. Edson served as President of Lambda Legal Society, Stetson's LGBTQ+ student organization. Under their leadership, Lambda created the Lambda Legal Society PRIDE Scholarship, the first scholarship for current LGBTQ+ and ally students at Stetson, and hosted the Inaugural Pride Flag Raising, Transgender Flag Raising, Alumni Mixer, and numerous events centered around the intersection of art and the law.
Edson also served as a member of Stetson's Campus-Wide Diversity Committee and Student Bar Association's Diversity Committee. In these roles Edson was able to spearhead securing pronoun pins for all students and assisted in drafting and reforming campus policies. Throughout law school, Edson has earned many recognitions, including Stetson's Pride Award, given to a graduating student based on participation in extracurricular activities and service related to the LGBTQ+ community. They have also received the Victor O. Wehle Award and the Diaco Law Book Award, both given to students who excel in Trial Advocacy.
Edson plans to continue contributing to the legal community through his memberships with the Clearwater Bar Association, Tampa's Hispanic bar Association, and Central Florida's Gay & Lesbian Laws Association. After passing the Bar, Edson will serve as an Associate with Burruezo & Burruezo, PLLC, an employment law firm located in Tampa, Florida. Edson's goal is to represent clients with disabilities and clients who identify as LGBTQ+ with their employment-related disputes and cases.
Previous Awardees:
2021

Winner – Julio Cazares, University of Mississippi School of Law
First Runner-Up – Demetrius Williams, Emory University School of Law

2020

Winner – Ian F. Tapu, University of Hawai'i
First Runner-Up – AK Shee, University of California, Los Angeles

2019

Winners – Chan Tov McNamarah, Cornell Law School, and Candelario Saldana, University of Miami School of Law

2018

Winners – Nicole Schladt and Faris Mohammed, Emory University School of Law
First Runner Up – Ashley Fasano, University of San Diego School of Law

2017

Winner – Christopher "Tripp" Zanetis, Stanford Law School
First Runner-up – Andy Blevins, Willamette University
Second Runner-up – Beck Zucker, The George Washington University Law School

2016

Winner – Joshua Treybig, Seattle University School of Law
Winner – Kathleen Cullum, Indiana University Maurer School of Law

2015

Winner – Adam Grogan, Albany Law School
Winner –Paul Sautter-Walker, Albany Law School

2014

Winner – Deborah Lolai, Touro College Jacob D. Fuchsberg Law Center
Runner-up – Brenna Ragghianti, Elon University School of Law

2013

Winner – Mieko Failey, Loyola Law School, Los Angeles
Runner-up – Elizabeth Dooley, Stanford Law School

2012

Winner – Michelle Garcia, Loyola University New Orleans College of Law
Runner-up – Adam Chang, University of Hawaii, Manoa

2011

Winner – Jason C. Beekman, Cornell Law School
Runner-up – Ashland Johnson, University of Georgia School of Law

2010

Winner – C. Hays Burchfield, University of Mississippi
Runner-up – Danielle Hawkes, University of Utah S.J. Quinney College of Law