Please note: In November 2019, the Leading Practitioners Award was renamed to the Leading Family Law Practitioner Award.
The National LGBTQ+ Bar Leading Family Law Practitioner Award recognizes lawyers whose work supports LGBTQ+ families, in all of their configurations. Family law involves more than family creation and relationship dissolution. LGBTQ+ family law may also include allied practices in immigration, tax, military, benefits, children's rights and welfare, disability rights, employment, bankruptcy, landlord-tenant, health care, decision-making and managing costs.
The Award is given each year to one individual who is in the private practice of law, and has improved the lives of members of LGBTQ+ families, parents or children through outstanding legal work, demonstrated by a longstanding commitment to providing legal services of a high quality to the LGBTQ+ community; by commitment to significant pro bono work for LGBTQ+ families, parents or children; or by leadership in significant impact litigation or advocacy affecting or in support of LGBTQ+ families, parents, or children while engaged in the private practice of law.
Each year, the Director of the LGBT Family Law Institute will appoint a committee to make a single nomination subject to approval of the LGBTQ+ Bar.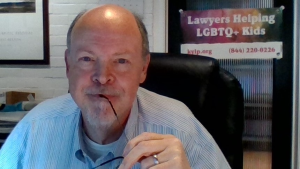 Keith Doniphan Elston has been a practicing attorney since 2006. He was born and raised in Lexington, Kentucky, is a graduate of University of Kentucky, with a degree in Political Science, and received his Juris Doctor from Drake University Law School in Des Moines, Iowa.
In the early 1990s, he was hired by the national office of the American Civil Liberties Union to establish an office in the Dakotas, and several years later, he was hired by the ACLU of New Mexico as their executive director. In 2000, he and his husband, Mark Schmidt, moved to Vermont so that he could lead a nonprofit advocacy group for LGBTQ+ children and youth, Outright Vermont. This was at a time when the Vermont legislature enacted civil unions, and because he led one of the most visible LGBT organizations in Vermont, the backlash from the religious right was severe. "I had people calling in death threats to my staff," Mr. Elston said, "and picketers outside our office building. It was a rather difficult time."
In 2002, he was accepted to law school at Drake University. He became involved in the Outlaws, a student-led group for LGBT law students, and the Drake chapter of the National Lawyers Guild. He also served on the law school's Diversity, Equity and Inclusion Committee for a year and a half. After graduating in 2005, he and Mark moved back to his home state of Kentucky, and he opened a solo family law and estate planning practice in Lexington.
In 2014, Mr. Elston attended a regional meeting of the LGBT Family Law Institute (a joint venture of the National LGBTQ+ Bar and the National Center for Lesbian Rights) in Atlanta, where he participated in a group discussion of the challenges for LGBTQ+ youth to have access to the legal system. Following the meeting, Mr. Elston decided to form a committee to explore how he could provide legal services for Kentucky's LGBTQ+ children and youth. From that committee came the Kentucky Youth Law Project, Inc., a nonprofit legal services corporation whose mission is to protect the legal rights and entitlements of LGBTQ+ children and youth through pro-bono legal representation, education, and public policy advocacy.
Mr. Elston is the past Chair (2020-2022) of the Kentucky Bar Association's LGBT Law Section, and the National LGBTQ+ Bar Association, an affiliate of the American Bar Association. He is also a member of the KBA's Committee on Child Protection and Domestic Violence, the National Bar Association – John Rowe Chapter, and the National Association of Counsel for Children.
He and Mark have been together for 26 years, married in 2015, and live with one of their three children, Nick, and their dog, Marley. Their son, Allen, lives in Louisville and their daughter, Kelly, lives in Bowling Green.
Winners:
2022 | Lavender Law - Los Angeles

Deborah H. Wald – The Wald Group

2021 | Lavender Law - Virtual

Carrington "Rusty" Madison Mead – Carrington Madison Mead, Esq.

2020 | Lavender Law - Virtual

Abby Rubenfeld – Rubenfeld Law Office, PC

2019 | Lavender Law - Philadelphia

Tiffany L. Palmer  – Jerner & Palmer, P.C.
Fabiana Quaini –  Quaini Law Firm

2018 | Lavender Law - New York City

Elizabeth Schwartz – Elizabeth F. Schwartz, P.A.
Zack Paakkonen – Portland Legal, LLC

2017 | Lavender Law - San Francisco

Debra E. Guston – Guston and Guston, LLP
Heather Fann – Fann Law, LLC

2016 | Lavender Law - Washington, D.C.

Noemi Masliah – The Masliah Firm
Cynthia Barrett – Cynthia Barrett, Attorney at Law

2015 | Lavender Law - Chicago

Bridget Wilson – The Dean Law Group, APLC

2014 | Lavender Law – New York

Carol Buell, Partner, Weiss, Buell & Buell
Judith Turkel, Turkel Forman LLP

2013 | Lavender Law – San Francisco

Bill Singer, Partner, Singer & Fedun, LLC