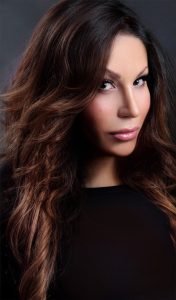 Finding Motivation in Hardship
Anya Marino serves as the Director of LGBTQI+ Equality at the National Women's Law Center, a role that marks a historic milestone as the first instance of a trans woman of color leading LGBTQ+ legal and policy advocacy within a prominent national social justice organization. Marino is also a 2023 recipient of the National LGBTQ+ Bar's 40 Best LGBTQ+ Lawyers Under 40 award. 
When Marino was young, she swore she would never be a lawyer. Her father was a lawyer and her mother worked as an office manager at a firm. She remembers her father using a dictaphone wherever he went – her younger self did not feel envious of the amount of work being a lawyer required! During her college years, Marino had aspirations of becoming an opera singer. She pursued a program that allowed her to explore both musical performance and humanities, ultimately solidifying her focus on anthropology. However, her identity and experiences as an LGBTQ+ individual prompted her deep involvement in advocacy and organizing efforts. She remembers living through the AIDS crisis and having her classmate's parents tell their children to avoid her due to the misinformation of how AIDS spread. These experiences drove her to advocate for her community. 
The pivotal moment in Marino's trajectory toward a career in law occurred when a close friend, also a trans woman of color, fell victim to a fatal crime, yet the perpetrator was subsequently acquitted. Marino expresses that she was tired of seeing trans people struggle just to stay alive and yet fail to receive a measure of justice from the existing legal system. She embarked on a profound shift in her vocational path, committing herself to legal advocacy. She pursued legal education, attending University of Maryland Francis King Carey School of Law, with an intention to leverage the legal system to affect meaningful change.
Advocacy and Experience 
Post-law school, Marino remained true to her commitment to aiding marginalized communities, holding impactful roles at institutions such as the ACLU of Florida, the Harvard LGBTQ+ Advocacy Clinic, and her current position at the National Women's Law Center. Her time at the ACLU of Florida was particularly valuable for her, as it allowed her to find her own voice, with the help and support of the organization's legal director. 
Reflecting upon her experience within the legal profession, Marino acknowledges the persistent presence of the "old boys' club" mentality that continues to pervade legal circles. She recognized early the importance of asserting her competence and equal footing alongside her cisgender, white, and heterosexual colleagues. Her dedication to proving her capabilities has translated into an intensified work ethic, striving to match or exceed the efforts of her peers. To navigate the challenges she has faced, she consciously surrounds herself with supportive colleagues who value her contributions and do not discount her identity as a trans woman or woman of color.
In her new role with NWLC, Marino eagerly anticipates closer community engagement, and is working to foster open dialogues to discern and address the most pressing concerns of community members. She says that "as advocates, we often forget to listen," and reminds us that we should pause and remember we are here in service to the community at large and that we should serve the community's needs. Marino believes the recent and increased legislative attacks we have seen aim to dehumanize LGBTQ+ people. She believes the sponsors of these pernicious bills know the harm they cause to the most vulnerable among us and are hoping the bills will do their worst: "They are hoping these laws do harm to our children. They are hoping these laws lead to criminal prosecution and felony disenfranchisement of our adults; and, they are fully aware of the multiplying and negative consequences for trans, non-binary, and gender non-conforming people once these bills become law." She has deep concerns regarding the legislations' erasure of the LGBTQ+ community's stories and history. She says, "As a collective, it is imperative that we stand resilient against these challenges and protect the community's invaluable heritage."
The National LGBTQ+ Bar extends gratitude to Anya Marino for her unwavering dedication. Her resolute advocacy and tireless efforts have made a profound impact on the lives of many, and we deeply appreciate her commitment to a better future. We are proud to recognize her as one of our 2023 Best LGBTQ+ Lawyers Under 40!