Are you or a family member LGBTQ+
and in need of a lawyer?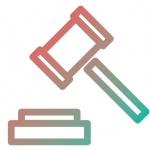 The LGBTQ+ Bar cannot give legal counsel or recommend attorneys, but one of our affiliates may be able to help.
Please visit our State and Local LGBTQ+ Bar Affiliates page to find a bar association in your area.
Additional LGBTQ+ Resources
For information and resources regarding LGBTQ+ discrimination, contact Lambda Legal's Help Desk.
For legal assistance and information pertaining to immigration, visit Immigration Equality.
For LGBTQ+ legal questions, call or email the National Center for Lesbian Rights.
For legal assistance regarding name and gender changes, contact the Transgender Legal Defense & Education Fund.
If you are considering suicide and in need of immediate help, please visit The Trevor Project.