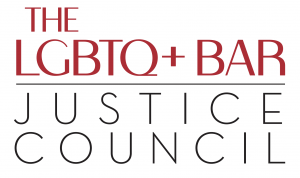 Become an inaugural member of the LGBTQ+ Bar's new Justice Council!
During these turbulent times, it's more important than ever to stand strong and show your support of the critical work the Bar accomplishes for LGBTQ+ legal professionals and the broader LGBTQ+ community.
Not only will you ensure Diversity & Inclusion is front and center for firms and corporations of all sizes, you'll help with critical LGBTQ+ focused advocacy initiatives within the ABA and broader policy issues. Justice Council membership ranges from $1,200 to $10,000.
The Benefits of
Justice Council Membership:

$1,200

$2,500
If you have any questions about the LGBTQ+ Bar's Justice Council program or would like to make your gift over the phone, please contact Paul Thaler at paul@lgbtqbar.org.