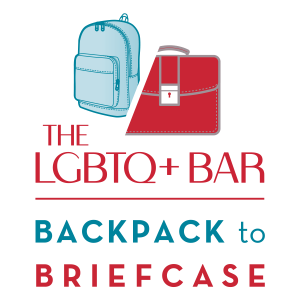 Backpack to Briefcase
Welcome to Backpack to Briefcase! B2B is the National LGBTQ+ Bar's new law student members-only website with resources to help LGBTQ+ law students navigate law school and career planning.
B2B houses content on a number of topics, including Law School Skills, Health & Wellness – including an LGBTQ+-competent provider map, LGBTQ+ Legal Knowledge, Career Planning, and more! We will continuously update and add items, so check back regularly to see what's new. If you have any questions about B2B, please email Patrick O'Brien, Programs Manager, at patrick@lgbtqbar.org.