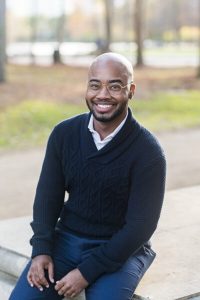 The National LGBTQ+ Bar Association is proud to highlight our fellow Board Member, Jay Larry.
While attending Vanderbilt University, he discovered his passion for the law. His curiosity blossomed when he took Philosophy of Law and switched his studies from pre-med to English and History Interdisciplinary Studies, with minors in Philosophy, Film Studies, and Spanish. He continued his studies at Vanderbilt Law School and joined Bracewell LLP as an Associate in 2017.
Larry believes that a successful career is contingent on finding your passion within your work. After five years at Bracewell, Larry moved to New York City as Corporate Counsel and Assistant Secretary of the media company with Paramount Global. Larry always had an adoration for film and felt the next stage of his career was the perfect time to combine his two passions: law and entertainment. Although he never faced implicit at previous workplaces, he has felt particularly embraced at Paramount. "I'm lucky to work at a company where Diversity, Equity and Inclusion are taken very seriously, and my colleagues are deeply committed to its mission." 
Representation without further action cannot be the goal. That is why Larry seeks to use his life experiences and identity as a trans attorney to teach them about the LGBTQ+ community. He is able to connect with his peers about professional interests like attending Lavender Law. He also uses his position to advocate for trans-inclusive policies that include healthcare plans supportive of trans accommodations. Larry uses his skills and network as a corporate attorney to support LGTBQ+ people through pro bono work, such as name and gender marker clinics, forming legal entities, and contract reviews. 
When looking at the challenges facing the LGBTQ+ community he recognizes how representation with action can be a double-edged sword for the community. "The trans, nonbinary, and intersex communities' increased visibility in recent years has helped elevate our society's dialogue around the real-life issues many of us face on a daily basis. The recent conversations around respecting people's pronouns are a prime example of how shining light on and having dialogue around, a topic can produce concrete benefits in people's everyday lives. But the sword, unfortunately, cuts both ways. We've also seen certain hostile interests take what they've learned about trans-inclusive healthcare and use it to prosecute parents of trans children and block access to healthcare." Larry hopes that people will continue to remain open-minded about LGBTQIA+ people. "I've had people tell me: 'I wonder how many times I've talked to someone and just didn't know they were transgender.' I had a good laugh about that afterward."
We are proud of Jay Larry and his work with our organization and The National Trans Bar Association!