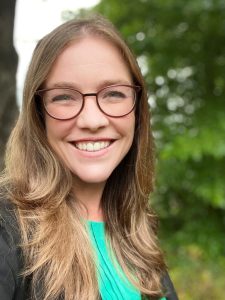 Striving to Give Everyone a Seat at the Table
Ms. York is the Director of LGBTQ+ Family Law and Policy and Senior Policy Counsel at Family Equality. She advocates for LGBTQ+ individuals and families who have been denied a seat at the table, living true to her original motivation to pursue a career in law. From a young age, Ms. York recognized both the pervasive influence of the law on various aspects of life and its inaccessibility to most people. This realization drove her to support marginalized communities who are often prevented from navigating the legal system and who struggle to access adequate representation or to have basic legal needs recognized and met.
Throughout her career, Ms. York has been committed to offering pro bono assistance to LGBTQ+ individuals, advocating for animal rights, serving as a public defender representing victims in cases of child abuse and neglect, and working at the family law clinic at the Vermont Law and Graduate School. Each of these choices has been motivated by her desire to aid those in dire need. Currently, she continues her impactful work at Family Equality, channeling her passion for family law towards addressing the historical and current marginalization faced by various groups, including those affected by socioeconomic disparities, LGBTQ+ status, and racial inequality. Ms. York's objective is to empower and amplify the voices of these individuals by advocating for  better and more inclusive family and LGBTQ+ law and policy as well as actively fighting proposed laws that harm the LGBTQ+ community.
One of Ms. York's primary criticisms of the existing legal environment lies in its inaccessibility to the average person. She firmly believes in eliminating convoluted and exclusionary legalese, which functions as a barrier between people in need and an understanding of the laws that can help them. Ms. York remains optimistic that the increasing adoption of plain language within the legal field will enhance accessibility for the general public. Furthermore, she actively supports the use of user-friendly platforms and techniques to bring the law closer to everyone. In fact, her organization, Family Equality, is currently developing an app with this very purpose.
Ms. York's work primarily revolves around family formation and protection. She tirelessly advocates for laws that make family formation possible and accessible, and works to ensure that LGBTQ+families can access important legal protections. To that end, Ms. York largely focuses on updating parentage laws across the country, streamlining the process for LGBTQ+ parents to secure enduring legal relationships with their children. Beyond her advocacy work, Ms. York's contributions extend to her role as a professor at the Vermont Law and Graduate School, where she established and supervised an LGBTQ+-specific program within the family law clinic. Her efforts within and outside this role have led to significant achievements, including securing parentage rights for LGBTQ+ clients and even obtaining the first initial birth certificate in Vermont with an X gender marker.
In summary, Ms. York's unwavering dedication stems from her commitment to providing a voice for marginalized communities and addressing the systemic barriers that hinder their access to justice. She actively strives to make the law more accessible, pushing for plain language and user-friendly tools. Ms. York emphasizes the need for updated parentage laws so that LGBTQ+ people can form and protect their families. Through her work at Family Equality and her involvement in family formation and protection, Ms. York continues to make a lasting impact in the field of family and LGBTQ+ law. All of us with the National LGBTQ+ Bar are thankful for all the hard work she is doing.