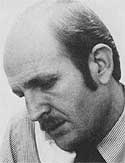 The Dan Bradley Award is the LGBTQ+ Bar's highest honor. It recognizes the efforts of a member of the lesbian, gay, bisexual and transgender legal community whose work, like Attorney Dan Bradley, has led the way in our struggle for equality under the law. Dan Bradley was the first chair of the American Bar Association Section of Individual Rights and Responsibility's Committee on the Rights of Gay People, now known as the Committee for Sexual Orientation and Gender Identity. Bradley saw the law as a powerful instrument of social justice, and he believed that lawyers had an obligation to place their skills as advocates at the service of the least powerful among us.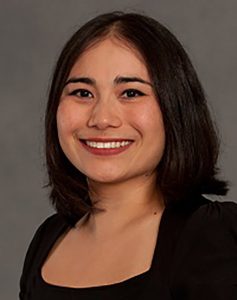 The National LGBTQ+ Bar is proud to bestow Cathy Sakimura with the 2021 Dan Bradley Award. Cathy Sakimura is the Deputy Director and Family Law Director for the National Center for Lesbian Rights (NCLR). In that capacity, Cathy manages the day-to-day work of NCLR's departments, provides strategic support to NCLR staff in achieving NCLR's mission and goals, and oversees NCLR's family law work. Cathy joined NCLR in 2006 as an Equal Justice Works Fellow, when she founded NCLR's Family Protection Project, which improves access to family law services for low-income LGBTQ parents and their children with a focus on increasing services to families of color. This project provides free legal information to low-income LGBTQ parents and their children; trains and supports attorneys providing free and low-cost services to these families; and works in coalition with organizations serving communities of color to provide culturally competent services to families of color.
She received her J.D. from UC Hastings College of the Law in 2006 and her B.A. from Stanford University in 2001. Prior to law school, she worked at Gay-Straight Alliance Network, where she empowered young people to combat harassment in their schools and participated in a multi-organization project linking work against homophobia with work against racism. Cathy was also previously a member of the Board of Directors of COLAGE, a national movement of children, youth, and adults with one or more lesbian, gay, bisexual, transgender, and/or queer parents.
Cathy is a national expert in LGBTQ family law, and in her role as Family Law Director, works on a range of issues including parentage, custody, adoption, assisted reproduction, relationship recognition, and public benefits. She is a co-author of Lesbian, Gay, Bisexual, and Transgender Family Law, published by Thomson Reuters. In 2012, she was named one of the Best LGBTQ+ Lawyers under 40 by the National LGBTQ+ Bar Association.
Please join the National LGBTQ+ Bar Association in thanking Cathy for all of her hard work on behalf of the LGBTQ+ community, and in congratulating her on being the 2021 Dan Bradley Award Winner.
Winners:
2021 | Lavender Law - Virtual

Cathy Sakimura, Deputy Director & Family Law Director, National Center for Lesbian Rights

2020 | Lavender Law – Virtual

David Lat, Legal Recruiter – Managing Director, Lateral Link

2019 | Lavender Law - Philadelphia

Chai Feldblum, Partner, Morgan, Lewis & Bockius LLP

2018 | Lavender Law - New York City

Justice Rosalyn H. Richter, Associate Justice, New York State Appellate Division First Department

2017 | Lavender Law 2017 - San Francisco, CA

Douglas Hallward-Dreimeir and the Pro Bono team at Ropes & Gray LLP

2016 | Lavender Law 2016 - Washington, D.C.

Kevin Cathcart, former Executive Director of Lambda Legal 

2015 | Lavender Law 2015 - Chicago, IL

Mary Bonauto, Director, Civil Rights Project, GLAD

2014 | Lavender Law 2014 – New York, NY

Evan Wolfson, Founder and President, Freedom to Marry

Honorary Dan Bradley award presented posthumously to David Rosenblum, Legal Director, Mazzoni Center

2013 | Lavender Law 2013 – San Francisco, CA

James Esseks, Director of Lesbian Gay Bisexual Transgender & AIDS Project, ACLU

2012 | Lavender Law 2012 – Washington, DC

Jennifer Levi, Director of Transgender Rights Project, GLAD

2011 | Lavender Law 2011 – Hollywood, CA

Nancy Polikoff, Professor of Law, American University Washington College of Law

2010 | Lavender Law 2010 — Miami Beach, FL

Jon Davidson, Legal Director, Lambda Legal

2009 | Lavender Law 2009 — Brooklyn, NY

Dr. Frank Kameny, one of the nation's first and foremost gay activists

2008 | Lavender Law 2008 — San Francisco, CA

Shannon Minter, Legal Director, National Center for Lesbian Rights

Therese Stewart, Chief Deputy City Attorney, City of San Francisco

2007 | Lavender Law 2007 — San Francisco, CA

Patricia M. Logue, Associate Judge, Circuit Court of Cook County

2006 | Lavender Law 2006 — Washington, DC

Urvashi Vaid, Executive Director of the Arcus Foundation

2005 | Lavender Law 2005 — San Diego, CA

Arthur S. Leonard, Professor of Law at New York Law School and author of Law Notes

2004 | Lavender Law 2004 — Minneapolis, MN

Ruth E. Harlow, former Legal Director of Lambda Legal Defense and Education Fund; Lead Counsel in the landmark case, Lawrence v. Texas

2003 | Lavender Law 2003 — New York, NY

Matthew Coles, Director, ACLU National Lesbian and Gay Rights Project

Leslie Cooper, Staff Attorney, ACLU Lesbian and Gay Rights Project

2002 | Lavender Law 2002 — Philadelphia, PA

Kate Kendell, Executive Director, National Center for Lesbian Rights, San Francisco, CA

2001 | Lavender Law 2001 — Dallas, TX

Phyllis Randolph Frye, Transgender Activist and Civil Rights Leader, Houston, TX

2000 | Lavender Law 2000 — Washington, D.C.

Mark D. Agrast, Legislative Director & Counsel to Rep. William H. Delahunt, Former NLGLA Co-Chair

1999 | Lavender Law 1999 — Seattle, WA

Hon. Stephen M. Lachs, Los Angeles County Superior Court Judge

1998 | Lavender Law 1998 — Boston, MA

John Ward, Founder & Former Executive Director of Gay & Lesbian Advocates and Defenders

1997 | Lavender Law 1997 – West Hollywood, CA

Abby Rubenfeld, Rubenfeld & Associates, Nashville, Tennessee; Former Legal Director of Lambda Legal Defense & Education Fund

1996 | Lavender Law V - New Orleans, LA

Suzanne Goldberg, Attorney for Lambda Legal Defense & Education Fund

Tom Stoddard, Former Executive Director of Lambda Legal Defense & Education Fund

Jeanne Winer, Trial Counsel for Plaintiffs in Evans v. Romer

1994 | Lavender Law IV-Portland, OR

William E. Adams, Jr., Nova University School of Law, Fort Lauderdale, FL

1992 | Lavender Law III – Chicago, IL

Sue Wilson, Attorney for Sharon Kowalski

1990 | Lavender Law II – Atlanta, GA

Nan Hunter, Professor, Brooklyn Law School; Former Head of Gay & Lesbian Rights Project, ACLU