The National LGBTQ+ Bar Association and Foundation offers three scholarships of $2,500 each, annually. Students must be accepted or enrolled at least half-time in an ABA-accredited law school to be eligible,* and must complete an application. 
Scholarships will be awarded to:
One incoming 1L student,
One rising 2L student,
One rising 3L or 4L (enrolled in evening or part-time program) student.
The LGBTQ+ Bar's Scholarship Committee will evaluate each of the applicants by June 1 of each calendar year; decisions will be based in significant part upon demonstrated commitment to working through the law to achieve equality for LGBTQ+ people. Funds are granted on an unrestricted basis and may be used for tuition, housing, books, transportation, living expenses, bar application/study expenses, or any other law school-related expense.
* Entering first-year students who have not yet been accepted to law school or have not yet chosen a law school by April 1, 2023 may still apply; funding will be released upon proof of registration.
How to Apply:
Applications are now closed.  Please check back in January 2024 when applications open for next year. If you have any questions, please contact Patrick O'Brien at patrick@lgbtqbar.org.
Riley Del Rey, 1L Recipient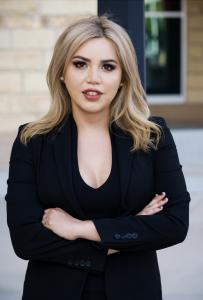 Riley Del Rey is a matriculated student in Duquesne Kline's School of Law Class of 2026. Del Rey's decision to attend law school made sense after fulfilling five years worth of her dreams working in the film and entertainment industry. She has worked as an actress, film and television producer and director. Ms. Del Rey earned a B.A. of Philosophy at the University of New Mexico and a Film Technician Certificate from Central New Mexico Community College. Prior to her first film, the political documentary #JustAnotherDeadTranswoman, Del Rey volunteered legal name change services and insurance appeals for transgender people at no cost. Concurrently she worked at a law firm assisting the elderly and disabled file Social Security claims.  In 2018, Del Rey was outed nationally herself when U.S.A. Today published an article on her discrimination and reprisal complaint against a U.S. Congresswoman; the article alleged Del Rey was terminated from her role as congressional intern when the Congresswoman learned of her status as a transgender person. Del Rey then adapted the harrowing experience of being trans on the Hill into the thought-provoking and groundbreaking TV pilot, Capitol Barbie, currently being pitched in Hollywood.
Indira Rahman, 2L Recipient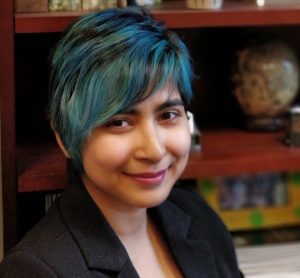 Indira is a queer, non-binary asylum seeker from Bangladesh. Prior to law school, they were the lead full-time researcher on the world's first quantitative index on LGBT human rights in 204 countries. Indira had the distinct privilege of recruiting—and learning from—more than 50 LGBT human rights experts from over 40 countries. Their research culminated in the first global landscape study of transgender rights in the Journal of Human Rights.
After almost four years as a scholar-activist, Indira decided to pursue law school with the goal of ending the criminalization of LGBTQ+ people worldwide. At Temple University Beasley School of Law, Indira is a 1L representative for OUTLaw and plans to be heavily involved with the LGBT rights clinic and curriculum in the coming semesters. This summer, Indira will return to Washington, DC to intern at the World Bank, where they have a three-month appointment. Alongside their internship, they will be conducting an academic case study of South Asian LGBTQ+ asylum seekers and investigating the link between sustainable project funding, legal access, and inclusion.
As a scholar, aspiring lawyer, and displaced immigrant with a unique global perspective, Indira is passionate about elevating non-Western queer immigrant voices. When not thinking about their next project, Indira enjoys spending quality time with their two cats, Kion and Ralphie.
Valentine, 3L Recipient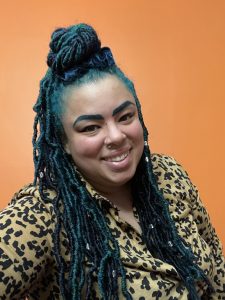 Valentine is a rising 3L law student at DePaul University College of Law in Chicago, IL, working toward a career in intellectual property and business law for the arts, entertainment, and adult industries. Outside of their studies, they are an award-winning, international burlesque entertainer, adult industry worker, artist, and creative business consultant. They serve as a board member and consultant for many alternative, creative, and adult companies and organizations throughout Chicago and beyond. Additionally, Valentine is a member of the Free Speech Coalition, the Lesbian & Gay Bar Association of Chicago, the American Bar Association, and the Chicago Bar Association. They also currently serve as the Student Division Chair for the First Amendment Lawyers Association. Additionally, they hold executive board positions with the DePaul chapters of the Black Law Student Association, OUTlaws, Student Bar Association, and the Entertainment & Sports Law Society. Valentine also holds a BA in Musical Theatre Performance and an MA in Arts Management from Columbia College Chicago and a certificate in Diversity & Inclusion from Cornell University. Their teaching credits include various law school, university, and conference lectures, workshops, and panels, covering topics including DEI, creative business, the performing arts, sexual health, sex worker rights, and more. They look forward to continuing to leverage their experience in niche and marginalized industries combined with their burgeoning legal expertise to promote labor rights, worker safety, free expression, and the right to contract, with the aim of helping their clientele protect themselves and their work, while generating comfort, security, and generational wealth.