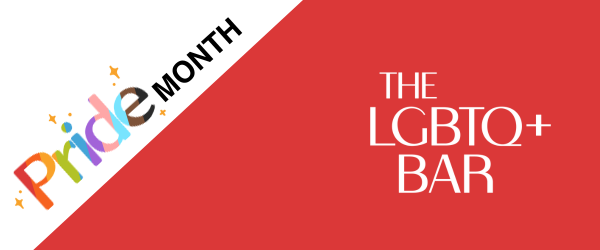 The National LGBTQ+ Bar Association & Foundation stands in solidarity with all of the individuals and organizations who are impacted by these recent attacks. We focus on important work. The Bar provides LGBTQ+ legal professionals a supportive community in their personal and professional lives so they can thrive in the midst of these ongoing attacks. We are also moving the needle forward to build a more inclusive, equitable profession for all of us in the future.
LGBTQ+ people in the United States are currently facing the worst backlash that we have experienced in recent years, with hundreds of bills directed against members of our community being introduced throughout the country. As of June 1st, the ACLU reports there have been nearly 500 anti-LGBTQ+ bills in this legislative cycle alone, many of which target transgender and nonbinary people.
Here are some of the many ways that the Bar supports our trans and nonbinary colleagues:
Community
Our annual

Lavender Law® Conference & Career Fair

is the largest LGBTQ+ legal conference in the country, and provides opportunities for LGBTQ+ people in all areas of the legal profession to connect and share their collective wisdom;

Trans in BigLaw is a monthly mentoring group of transgender and nonbinary attorneys in large law firms. This group provides both personal and professional support in a small group setting;
The Transgender Law Institute, a partnership between the Bar and the leadership of the National Trans Bar Association, is a participatory space at Lavender Law® where lawyers, law students, and activists invested in the issues facing the trans commitments come together to learn and plan collective action.
Resources
This year's

Lavender Law® program

places a focus on trans and nonbinary issues, with sessions including: 

a plenary CLE session discussing how legal professionals can and should respond to anti-trans attacks with appropriate and accurate messaging;

a new nonbinary inclusion workplace guide that the Bar is co-sponsoring;

an advanced program about identification documents for trans people;

a session on litigation and advocacy regarding gender affirming care, and more;

Backpack to Briefcase (B2B)

Our new portal provides comprehensive resources to help LGBTQ+ law students navigate law school and career planning, including an LGBTQ+ – competent health care provider map;

The Bar's annual Trans/Nonbinary Law Graduates of Color Grant Fund awards unrestricted $1,000 grants, to help offset the costs associated with the period of time between graduation and taking the Bar Exam/employment;

Members of the Bar's

Family Law Institute

are focused on supporting transgender parents, and parents of trans kids, in jurisdictions across the country.
Advocacy
The Bar's signature policy work is focused on the eradication of the

LGBTQ+ "panic defense"

. This legal strategy is often used against trans people, and asks a jury to find that a victim's sexual orientation or gender identity/expression is to blame for a defendant's violent reaction. Our organization is a national leader in the movement to ban this defense.

To date, the LGBTQ+ "panic defense" has been banned in 19 states and the District of Columbia, with bills being introduced in 13 additional states and at the national level;

New Hampshire and Delaware banned the "panic defense" just this month!

We will soon be launching the

Transgender Incarceration Resource Project

, an easy-to-navigate resource dedicated to helping incarcerated transgender individuals who are misgendered and housed with the incorrect gender population. This resource includes a sample letter and state-by-state directory to effectuate rehousing in the correct population.
That's the "what" of how we're responding to this moment. The "why" is you.
Your voices, your careers, and your personal and professional well-being are why the National LGBTQ+ Bar exists.
And so we are honored to feature conversations with some of our transgender and nonbinary colleagues who are navigating this challenging moment in time. We interviewed them about their concerns, their joy, and their thoughts on what the community needs most right now, and we invite you to share in their stories as we celebrate Pride Month. 
Please click on a photo below to read the full transcript of their interviews.
Our work to support the LGBTQ+ legal community in the present and build for the future is only possible because of your generosity. If you feel inspired to support our mission, please consider making a donation to the National LGBTQ+ Bar Foundation. Thank you for your dedication to creating a more just and equitable legal profession.