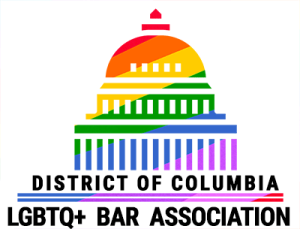 By Caleb Simpson
We are pleased to highlight the District of Columbia LGBTQ+ Bar Association in our affiliate spotlight blog series!
The DC LGBTQ+ Bar Association was founded in 1990 to serve LGBTQ+ lawyers and legal professionals in the nation's capital. Josh Mogil, Board Member and Treasurer of the DC LGBTQ+ Bar Association, says, "Our current board works to advance the interests of our community by being their voice within the legal community in order to improve the professional lives of our members." 
Since the pandemic, the goals of the organization have been to "bounce back, rebuild community, advocate, and educate our members and the community at-large." The DC LGBTQ+ Bar Association created various programs to meet the needs of its members. For example, the association adapted to host virtual CLE opportunities for its membership, including a recent program on the rise of anti-LGBTQ state legislation. It kickstarted a mentorship program to connect experienced lawyers with young lawyers and DC-area law students. Moreover, the group sponsored fellowship grants for DC law students to attend the 2022 Lavender Law® Conference & Career Fair in Los Angeles, California, as well as holding summer externships with Whitman Walker Health Legal Services. Recently, the DC LGBTQ+ Bar Association held its annual DC Pride Reception at Steptoe & Johnson LLP DC office. This was the organization's first reception since the start of the COVID-19 pandemic. The event celebrated legal diversity on the bench by featuring DC LGBTQ+ judges. The panelists discussed their unique journey to the bench and how their identity shaped their career. The organization also hosts monthly happy hours to cultivate relationships amongst its members.
The DC LGBTQ+ Bar Association has great pride in its connection to DC and the National LGBTQ+ Bar Association. Newly-elected National LGBTQ+ Bar President-Elect Bendita Cynthia Malakia is a DC resident and member of the DC affiliate. Mogil and the organization have formed close partnerships with other local bar affiliate organizations and the DC Bar organizations to better understand the intersectional identities of its members and move forward together on policy issues.
"It has been so rewarding to serve my community in this way and meet incredible lawyers, legal professionals, and law students who are doing amazing work." Josh Mogil, continues, "I'm excited for the future of this organization and my continued service on it."
The National LGBTQ+ Bar congratulates the DC LGBTQ+ Bar Association on all of its success, and will continue to support the organization in its future endeavors for the DC LGBTQ+ legal community. For more information, please visit: www.dclgbtbar.com